If you've been in business for any length of time, you've been told that you should niche down. Usually, they're referring to either an audience or a service/product.
Generally, this is excellent advice… that we happen not to follow.
Chalk it up to my obstinance or indecision, or perhaps it's because I would get bored doing the same thing over and over. It could also be that I want to work with clients from the initial branding steps all the way to filling up their pipeline through lead generation.
Although we have started niching down our services, we're not quite ready to do that with our audience. For now, we've found that our lack of an audience niche has actually become an asset for our clients.
How, you ask?
Frankly, I haven't come up with a better term for it than "cross-pollination." As cheesy as it sounds, as bees carry pollen from one flower to another, Stratos uses techniques and strategies from one industry and applies them to another.
In our experience, we've found that most industries are pretty siloed. That being said, we've also seen that many strategies that work for one industry can work for another. When we "cross-pollinate" these ideas, we find new strategies that work for our clients, AND we differentiate them from their competitors who aren't using those strategies.
If we were to niche down on our audience, we would miss out on being able to serve our clients in this way. Cross-pollination a la marketing fuels our creative spirits and boosts our clients' businesses in a way their competitors miss out on.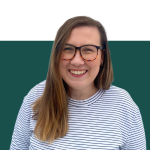 Julia began Stratos to create a work environment that helped both clients and employees design lives that they enjoy. On the client side, she helps business owners make sure each of their marketing strategies work together to produce the results and revenue they want. On the employee side, she leads the team as we navigate the challenges and joys of working remotely.