If you have been here for a while, you know we LOVE the StoryBrand Framework and that I am a StoryBrand Guide. Maybe you recently listened to my podcast episode about it…DO NOT MIND THE PODCAST PLUG 🤣.
OK, about to my StoryBrand Journey…
For me, it's fun to look back and see all that has changed in my life, both personally and professionally since I started my business and became a certified SB Guide. ICYMI, here is a little walk down my SB memory lane:
January 2018 – I started freelancing as a social media manager and web designer.
April 2018 – I discovered Building a StoryBrand by Donald Miller through a book club. Everyone took 6 weeks to read the book while I inhaled it in a week.
November 2018 – A small-town Wisconsin non-profit asked me to help with their end-of-year fundraising. Their goal was $10,000. After implementing the SB framework into their social media messaging, we raised nearly $20,000!
January 2019 – I felt like an imposter amidst my marketing colleagues and had wrestled with whether I should return to school and get a Master's Degree. Instead, I invested my savings into becoming StoryBrand certified. I figured… worst case scenario, I'd learn something new and get a Master's later. If it had doubled my client's fundraising capabilities, it probably would work for others too.
February 2019 – I went to Nashville for a week. By the third day, my brain was so tired from the massive information overload. I went back to my Airbnb, ate a whole pizza by myself while watching Netflix, and went to bed by 7:30 pm.
Present Day: I'm heading into my 4th year as a StoryBrand Guide and am grateful to have learned about the framework when I did. We have implemented it in our business and in our client's businesses with great success:
By using clear messaging, we have clients whose calendars are booked solid with $350/hr services. Other clients saw their business grow by 30% during the pandemic. Others have been able to align their website, social media, and emails so their customers see the same messages over and over. A favorite client of mine is no longer embarrassed by his website because it finally communicates what he always wanted it to say.
Now, I want to help you grow your business. While we can't travel to Nashville and eat pizza 🍕 together, there are livestreams that you can join me for. Learn more and register here.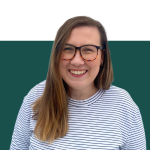 Julia began Stratos to create a work environment that helped both clients and employees design lives that they enjoy. On the client side, she helps business owners make sure each of their marketing strategies work together to produce the results and revenue they want. On the employee side, she leads the team as we navigate the challenges and joys of working remotely.