Is improving your social media presence a 2020 goal? Many business owners know they need to use the various platforms to reach their goals, but when they sit down to write out their captions, they hit a roadblock.
They just don't know what to say!
We have good news for you. We're putting together a list of social media thought starters. The statements and questions will give you some great ideas that you can use as your craft your social media captions. Keep your eye out for more throughout the year!
Where do you do your best work? Show your audience a photo of your workspace and let them know what you're working on.
What fuels you? Make it as light or as deep as you'd like!
What's something you tried, realized it might not have worked, and had to redirect?
What's something you're proud of that could make you relatable to your clients?
Share a testimonial from one of your projects or clients.
If you use any of these prompts, tag us (@stratoscreative) and we'll come and comment on your post to help boost your engagement!
Looking for even more guidance with your social media? We've created the ideal social media scheduler that comes with prompts, templates, feedback, and brainstorming sessions so you can create your ideal social media accounts yourself with the support of expert marketers and content creators! Sign up for Stratosphere today. By this time tomorrow, you could have your next month of content scheduled.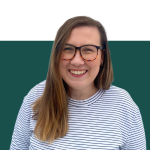 Julia began Stratos to create a work environment that helped both clients and employees design lives that they enjoy. On the client side, she helps business owners make sure each of their marketing strategies work together to produce the results and revenue they want. On the employee side, she leads the team as we navigate the challenges and joys of working remotely.